Laser Toenail Treatment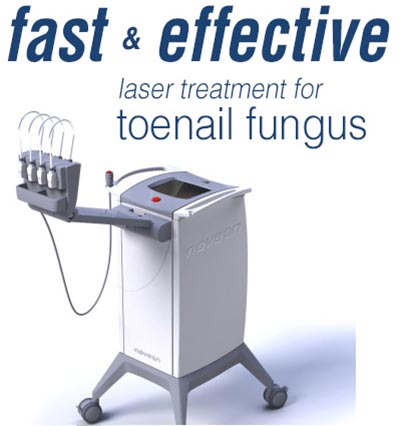 Toenail fungus and other toenail problems affect more than 10 percent of the American population. The fungus begins as a discoloration — what's known as "ugly nails," but eventually it gets worse and can even become painful. Toenail fungus can be picked up in a number of places including locker rooms, gyms, showers and nail salons.
What's worse is that toenail fungus is very difficult to get rid of once you have it. Often, topical treatments aren't strong enough to get rid of the infection entirely. Even after it's treated, it can re-appear later.
In 2011, the Food and Drug Administration approved the use of lasers to treat fungal infections of the toenail. This was a huge success for those suffering from this condition, and your foot doctor in midtown NYC can now use this very effective tool against toenail fungus. Only an experienced podiatric specialist can treat toenail fungus with a laser, but the earlier you seek treatment, the faster and easier your recovery is.
All symptoms, potential procedural/surgical options should always be discussed with your podiatrist after a thorough consultation and examination for an accurate diagnosis and treatment plan.
Causes of Toenail Fungus
Toenail fungus is caused by the onychomycosis fungus, which is very common and can affect anyone. Often, its unsightly appearance on your toenails sneaks up on you because it can take years for the symptoms to become noticeably bad. It can take even longer to be motivated enough to receive treatments because of how slow it progresses.
Over time, however, your nails turn from thick and discolored to brittle. They may even pull away from the nail bed, causing pain that sends you running to a podiatrist. Your midtown NYC foot doctor can help you prevent these painful symptoms from occurring. Simply make an appointment as soon as you notice the first symptoms — and the sooner, the better.
Why Receive Laser Toenail Treatments
It's very important to see a good podiatrist in NYC as soon as you're aware or even suspicious that you have a fungal infection. They're very contagious and won't go away on their own. Additionally, without laser treatments, it's been very difficult to treat toenail fungus. Most people try over-the-counter ointments, creams, and lotions to no avail. They simply aren't strong enough.
Laser treatment of toenail fungus is hands down the most effective way to treat your fungal toenail infection. You may even need a series of treatments to really take care of the problem. So make an appointment with your foot doctor in NYC as soon as you first notice your symptoms to prevent your condition from worsening and to avoid spreading it to others.
How Laser Toenail Treatments Work
Laser toenail treatments administered by a podiatrist can rid you of a fungal toenail infection. The laser is a strong light beam that's able to pass through your toenail and into the surrounding tissue and nail bed. That's where the energy and heat is absorbed by the fungus living under your nail. The laser light kills the fungal organism.
Depending on the severity of your fungal infection and how long you've waited to seek treatment, you typically only need a couple of treatments. But it takes time for the affected "ugly nail" to grow out. You can expect two to three treatments with your foot specialist — about a month apart — until the fungus is completely killed.
Your First Appointment
For your first meeting with a podiatrist, expect a physical examination of your toenails. You and your foot doctor can determine if laser treatments are your best option. Next, you either schedule a follow-up appointment or begin treatment right away, if you're comfortable and feel confident about the procedure.
Most people are concerned that laser treatments for toenail fungus might be painful, but they aren't painful at all. You may feel just a warm sensation on your nail as the foot specialist focuses the laser on the affected area. It's extremely rare that patients feel pain at all.
Your Laser Toenail Treatment
Your first treatment with your podiatric doctor takes the longest, anywhere from 30 to 40 minutes. Follow-up treatments only take 20 to 30 minutes each. These estimates only include the laser treatment time, not a podiatrist's consultation time.
Before every laser toenail fungus treatment, you must remove all nail polish and any other nail covering. Be sure only your natural nail is exposed. Do this at least 24 hours before the procedure for the best results. With your laser-trained, experienced NYC foot doctor, Dr. Sophia Solomon at work, you can feel confident that your toenail fungus is being destroyed.
After-Care Requirements
The good news is that you can resume all regular activity immediately after your treatments. While you don't need any downtime with laser toenail fungus treatments, you should be careful to prevent further infection. Treat all your shoes with either a UV light or anti-fungal wash or spray.
Also, it's a good idea to wash your feet when you shower with an anti-fungal spray and use an anti-fungal cream after you shower. Ask a good podiatrist if you can paint your nails after treatment. Usually, it's best to use an anti-fungal nail polish only or abstain until you're sure you have fully rid yourself of infection.
Positive Results
Laser treatment of toenail fungus by your NYC foot specialist is the best treatment option for effectively ridding yourself of this aggravating condition. Many people only need one treatment to see results. Depending on the severity of your condition, you may need more treatments to completely kill the fungus, so don't be concerned if you have to return for additional treatments. Since the treatments are so non-invasive, get rid of your infection no matter how many treatments it takes.
Risks with Laser Toenail Treatments
The risks for leaving toenail fungus untreated far outweigh the risks of laser treatments. There are few risks associated with laser treatments. There have been no cases of the laser burning your toes or causing nerve damage. The laser has been used for skin care and hair removal for many years. Your insurance company, however, may not cover the costs of laser treatment.
Meanwhile, untreated nails eventually can become painful and even fall off. As the condition progresses, toenail fungus causes yellow, brittle, ugly nails, which can cause bad foot odor. Finally, the nail actually separates from the nail bed and becomes painful. Another risk of leaving toenail fungus untreated is that you could pass the infection to others, including your family. So make an appointment with your foot doctor NYC as soon as you notice a fungal infection.
All symptoms, potential procedural/surgical options should always be discussed with your podiatrist after a thorough consultation and examination  for an accurate diagnosis and treatment plan.
Important Reminder: This information is only intended to provide guidance, not definitive medical advice. Please consult your foot doctor about your specific condition. Only a trained, experienced board certified podiatrist or foot specialist can determine an accurate diagnosis and proper treatment.
Do you have any questions about Laser Toenail Treatment procedure in NYC? Would you like to schedule an appointment with an internationally recognized, top NYC Podiatrist and foot doctor, Dr. Sophia Solomon of Manhattan Foot Specialists?  Please contact our office for a consultation.
Manhattan Foot Specialists
Dr. Sophia Solomon, Podiatrist (NYC Foot Doctor)
51 East 25th Street, Ste 409
New York, NY 10010
(Between Madison Ave & Park Ave)
☎ (212) 389-9918
DISCLAIMER: PLEASE READ CAREFULLY
The information on this website is to provide general guidance. In no way does any of the information provided reflect definitive medical advice and self diagnoses should not be made based on information obtained online. It is important to consult a best in class podiatrist regarding
ANY and ALL
symptoms or signs as it may a sign of a serious illness or condition. A
thorough consultation
and examination should
ALWAYS
be performed for an accurate diagnosis and treatment plan. Be sure to call a foot doctor or call our office today and schedule a consultation with the leading foot surgeon Dr. Sophia Solomon.