Laser Wart Removal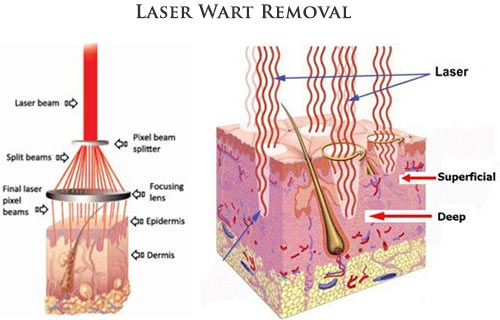 Many New Yorkers are worried about getting rid of pesky warts. Some believe warts eventually go away on their own. Others are unaware that warts are very contagious. And so people tend to put up with the annoying skin tags because of unknowns surrounding the removal procedure and the recovery process. And that's a shame because having warts removed prevents them from spreading and from causing further complications.
Your NYC podiatrist or a foot doctor can dispel any myths you may have heard. When it comes to warts, you need good medical advice that shines some light on why it's important to get your warts removed as soon as possible. With a good podiatry doctor, having warts removed with a laser is a great option because it's a quick and effective procedure with little downtime.
All symptoms, potential procedural/surgical options should always be discussed with your podiatrist after a thorough consultation and examination  for an accurate diagnosis and treatment plan.
Causes of Warts
Warts are infections in the top layers of your skin. They're caused by the human papillomaviruses (HPV), which are found everywhere, as your podiatric doctor can explain. Warts are harmless growths of rough excess skin that are usually skin-colored and very commonly found on your feet.
While they are harmless, warts are contagious. You need to take extra care to prevent the spread of warts. Podiatry doctors say athletes commonly get warts due to their contact with others through locker rooms. Similarly, children often get warts due to their interactions with other children and their weaker immune systems.
When you notice a wart has formed on your feet, be sure to contact your podiatrist in NYC. Have it confirmed as a wart. Bunions, corns and calluses are treated differently. Visit your local foot doctor or Dr. Solomon a leading NYC bunion surgeon who is surgically trained to correct deformities and will guide you to the newest bunion procedure that suits your lifestyle and expectations.
If you have warts, have them removed — and the sooner you deal with them, the better. Your New York podiatric specialist can provide you with the least invasive and quickest ways to treat unsightly warts.
Why Have Warts Removed
It's important to see your foot specialist as soon as you notice a wart because of how very contagious they are. You can even pass warts to yourself again and again. Local podiatrists warn that simply touching someone or something with an object that comes in contact with the wart can pass them to you.
This means you can pass the virus to others and re-infect yourself through clothing, towels, nail clippers, or any other object that comes in contact with the warts. It's best to make an appointment with a foot specialist as soon as you notice your first wart to prevent complications and spreading.
How Laser Wart Removal Works
Laser wart removal, as done by a good podiatry doctor, is an effective option for safely and quickly treating warts. Laser treatments use a strong beam of light to break up the tissue and destroy the wart and the virus that caused it. After your treatment from a podiatrist, the laser causes slight inflammation that may last a week or so. But the treatment cuts off the blood flow to the warts, denying it the nutrition it needs. Eventually, the wart flakes or falls off.
If, after your first treatment, you still have a raised area that looks like the wart may have returned, make a follow-up appointment with your midtown NYC podiatrist to ensure the wart is completely treated and won't spread.
What to Expect at Your Initial Podiatrist Appointment
When you first meet with your podiatrist, he examines your affected areas to ensure that what you have actually are warts and that they qualify for laser wart removal. Then your foot specialist either schedules an additional appointment or, if you're ready and comfortable, prepares your treatment that same day.
Perhaps the most common question people ask is whether laser wart removal is painful. And the most common response from podiatrists in midtown NYC is: "Very little or not at all." Your podiatry doctor uses a local anesthetic on the wart first, numbing the area to reduce any discomfort. The laser itself may cause slight stinging or a burning sensation that most people can tolerate easily without medication.
Your Treatment
There isn't much that you need to do or worry about before you meet with your foot specialist for laser wart treatment — it's a simple, noninvasive procedure. Make sure you make an appointment with an experienced foot doctor as soon as you notice a wart to prevent it from spreading — your podiatrist can take it from there.
The laser treatment takes between 10 and 30 minutes, including the time it takes to apply and allow the local anesthesia to begin working. After the area around your wart is numbed, it only takes a few minutes of applying the laser to the affected area before the treatment is complete.
After-Care
While there's no downtime after a laser wart removal treatment, your New York City podiatrist wants you to take care of the treated area to prevent any complications or infections. Keep the area clean and dry. The treated area may be tender or sore for a couple days to a week after treatment. The tenderness and length of healing time may last longer if you had a large wart or multiple warts in the same area removed.
Studies have proven that laser wart removal is an effective form of treatment for warts, even when topical treatments fail. Sometimes, you may need more than one laser treatment by your podiatrist to fully eliminate your pesky warts — this isn't uncommon; so don't be surprised.
Risks with Laser Wart Removal
Overall, laser wart removal is a low-risk procedure and with very few complications. However, contact your podiatric doctor in NYC if you experience any of the following:
Bleeding around the treated area lasts more than a week.
You develop a fever after your treatment.
You experience severe or worsening pain in the treated area.
There's a yellowish or a discolored discharge in the treated area. It's extremely important to contact your podiatrist in this case because this is a sign of infection.
Overall, laser treatment for warts on your feet with a highly experienced NYC podiatrist Dr. Sophia Solomon should be a minor and successful treatment experience. It's relatively painless and has a short recovery time. And it allows you to rid yourself of your warts and prevent them from spreading.
All symptoms, potential procedural/surgical options should always be discussed with your podiatrist after a thorough consultation and examination  for an accurate diagnosis and treatment plan.
Important Reminder: This information is only intended to provide guidance, not a definitive medical advice. Please consult foot doctor about your specific condition. Only a trained, experienced board certified podiatrist or foot specialist can determine an accurate diagnosis and proper treatment.
Do you have any questions about Laser Treatment For Warts procedure in NYC? Would like to schedule an appointment with an internationally recognized, top NYC Podiatrist and foot doctor, Dr. Sophia Solomon of Manhattan Foot Specialists, please contact our office for consultation.
Manhattan Foot Specialists
Dr. Sophia Solomon, Podiatrist (NYC Foot Doctor)
51 East 25th Street, Ste 409
New York, NY 10010
(Between Madison Ave & Park Ave)
☎ (212) 389-9918
DISCLAIMER: PLEASE READ CAREFULLY
The information on this website is to provide general guidance. In no way does any of the information provided reflect definitive medical advice and self diagnoses should not be made based on information obtained online. It is important to consult a best in class podiatrist regarding
ANY and ALL
symptoms or signs as it may a sign of a serious illness or condition. A
thorough consultation
and examination should
ALWAYS
be performed for an accurate diagnosis and treatment plan. Be sure to call a foot doctor or call our office today and schedule a consultation with the leading foot surgeon Dr. Sophia Solomon.