See what our patients say…
Manhattan FOOT SPECIALISTS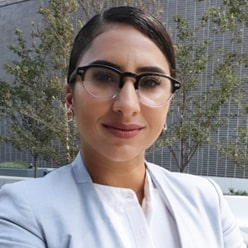 Dr. Sophia Solomon
Dr. Sophia Solomon is one of the best-rated podiatrists and foot doctors in Manhattan, NYC with a focus on foot deformities, bony bumps such as bunions and sports-related injuries. She specializes in minimally invasive bunion and hammertoe surgery and places importance on both functionality and an aesthetically pleasing result. She treats a wide array of podiatric conditions and looks forward to meeting you and helping you with your needs.
Book Now
Manhattan Specialty Care in the Press
5.0 ★ ★ ★ ★ ★ Source | Google
Professionalism at it's finest!Professionalism at it's finest! Dr. Solomon not only knows her field extremely well but she has the best bed-side manner ever. I went to two doctors for my foot previously and I had horrific experiences. Dr. Solomon is as her title claims. A specialist! 5.0 ★ ★ ★ ★ ★ Source | Google
Very knowledgeable Dr. Solomon is a skilled foot surgeon. I was skeptical about going to a podiatrist for my ankle/ foot injury (because I decided I was a diagnostic expert thanks to Web MD but surprise surprise, my own treatment didn't work so well…) But I decided to cave and see a podiatrist. Doctor Solomon was immediately helpful and clearly very knowledgeable and knew how to help my issue right away. Helping included shining light on my ankle issue, tips for how to rest/ heal/ fix the issue, and the icing on the cake – fashioning an addition to my shoe orthotics that immediately took care of my foot discomfort. I am very grateful to Dr. Solomon! 5.0 ★ ★ ★ ★ ★ Source | Yelp
She is very professionalDr.Solomon is a great doctor! She is very professional. Due to my tight work schedule, I was able to walk-in and see podiatrist Dr. Solomon in nyc office with minimal wait time. 5.0 ★ ★ ★ ★ ★ Source | Yelp
Literally the best doctorLiterally the best doctor I have ever went too! She is such a caring doctor and takes time to discuss all your needs and concerns. Also she is genuinely a sweet person. 5.0 ★ ★ ★ ★ ★ Source | ZocDoc
Dr. Solomon is a life saver!Dr. Solomon is a life saver!!!!!! My toe was killing me! It turns out I had a ingrown toenail deep into the root. Dr. Solomon took her time with me, educated me and talked me through step by step on what she was going to do. She numbed my toe and successfully cut out my horrible ingrown nail and I felt NOTHING! She is the best foot surgeon. She explained the aftercare to me in detail and I can't wait to see her again to do some more work on my feet. I am definitely going to refer my family and friends to her! Plus she's super cute and dresses really nice !! Thanks doc! 5.0 ★ ★ ★ ★ ★ Source | ZocDoc
I was in good handsI scheduled an appointment with Dr. Solomon after reading a few positive reviews and I was not disappointed. I arrived at her Park Avenue office (clean, bright) and waited 5 minutes at most to be seen. Dr. Solomon is friendly and personable. Very down to earth! After diagnosing my condition, we agreed that bunion surgery minimally invasive was a good option for me. She and her team were efficient and scheduled me immediately. Knowing that I was in good hands put most of my post-surgery nerves at ease. It's been 10 days since my surgery and my foot is healing well. Very pleased that I chose her as my podiatrist! 5.0 ★ ★ ★ ★ ★ Source | Google
Listen to her patientsI decided to make an appointment with Dr Solomon after my friend had great results with her bunion surgery. She actually takes time to listen to her patients and is very knowledgeable. The office was clean and welcoming. 5.0 ★ ★ ★ ★ ★ Source | Yelp
I was very pleasedThe doctor was very pleasant and very knowledgeable about my condition. She easily diagnose my condition and quickly decided on a treatment plan. I was very pleased during my visit. The office was well lit and modern. Super clean. I was seen immediately. No wait. I would highly recommend podiatry doctor Solomon for all of my foot care needs. 5.0 ★ ★ ★ ★ ★ Source | Google
On time, friendly, no rushOne of my best experiences with foot surgeon Dr. Solomon in the new york city. On time, friendly, no rush, really good listening where I was at, her explanations and diagnosis were on point! definitely made my condition better. 5.0 ★ ★ ★ ★ ★ Source | ZocDoc
Can-do attitudeDr. Solomon always impresses me with her can-do attitude. She's all about practical treatment methods that you are comfortable with. Having a podiatrist that understands the mentality of runners, and their unending desire be in the Park and not sat at home is priceless. I've given dozens of referrals for Dr. Solomon to my coaching clients and team mates. I wouldn't hesitate to give hundreds more.
As the best-in-class NYC podiatrists, our doctors provide highly personalized and comprehensive care. Our practice has earned one of the most respected reputations in NYC. We have convenient locations in the heart of New York City in Union Square/Chelsea, Midtown, and the Upper East Side. Our goal is to deliver truly exceptional podiatry care right in your neighborhood.
Our podiatrists are highly rated Manhattan podiatrists and top foot surgeons with a focus on foot and ankle deformities and sports-related injuries. Our Midtown podiatry specialists are some of the best podiatrists in NYC and among the top leading foot specialists in NY. Our internationally recognized podiatrists are skilled in bunion and hammertoe corrective surgery placing importance on both functionality and an aesthetically pleasing result with minimal to no visible scarring.
How to find some of the best podiatrists in New York City?
For more information about the podiatry and foot conditions we treat or to schedule a consultation with our podiatrists, please contact our NYC offices. We look forward to meeting you!
Our doctors are proud to be among the best NYC foot doctors. She is a leading foot specialist with exceptional skills and experience in the field of foot & ankle deformities and sports-related injuries. Our doctors are up to date with the latest podiatry technologies for the purpose of providing top-quality care. If you are looking for a personalized, effective, and cost-efficient treatment, you should not wait any longer and contact the leading New York foot doctor, Dr. Solomon.
Do you have questions for our team of top podiatry doctors in New York City? Would like to schedule an appointment with the best-in-class foot doctor in Midtown NYC, Dr. Sophia Solomon? Please contact our Midtown or Upper East Side podiatry center.