This practice is temporary closed. Dr. Jennifer McCoy is seeing patients at other locations. No medical information on this site should be relied upon in any case.
DISCLAIMER: PLEASE READ CAREFULLY ON BOTTOM OF THE PAGE
Hammer Toe Surgery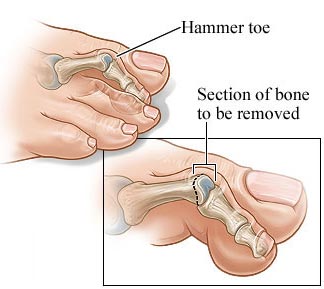 If your toes curl or buckle, the condition is known as hammer toes. This happens most commonly with your middle toes, but any of your toes are susceptible. This condition can be especially serious if you have diabetes or poor circulation. See a Manhattan podiatrist or foot doctor in New York at the first signs of trouble to treat this uncomfortable condition.
Hammer toe can be extremely painful. It happens when your muscles and ligaments have an imbalance around your toe joints. This sometimes causes your middle toe joint to bend or become stuck in a curled position. Rubbing and irritation on top of the bent toes comprise some of the top complaints associated with the condition. It's possible for less invasive methods to help, but if your case is serious, your NYC podiatrist may need to take more drastic measures, such as surgery.
All symptoms, potential procedural/surgical options should always be discussed with your podiatrist after a thorough consultation and examination  for an accurate diagnosis and treatment plan.
Diagnosis and Most Common Surgical Procedures
Your New York City foot doctor may need X-rays as part of your exam to determine if there's a deformity in your toes — and if so, how bad it is. You must consult a foot doctor in New York to get an accurate diagnosis. Several treatment options exist; the best one for you depend on the severity of your case.
The goal of hammer toe surgery is to address the pain that hasn't improved through nonsurgical methods. If not resolved by less invasive methods, surgery may be required to fix the problem. Surgery, the last option for treatment, can usually be performed on an outpatient basis with no need for hospitalization.
There are several surgical techniques that your podiatrist can use after determining that surgery is your best option:
Arthroplasty is one of the most frequently used surgeries. In this procedure, your foot doctor NYC removes a tiny piece of the bone from your misshapen joint, making your hammer toe instantly better. This surgery promotes straightening of the toe.
Arthrodesis is a type of fusion used in extreme cases of hammer toe. The joint underneath the crooked part of your toe is completely removed. Your podiatrist straightens your toe by fitting a small joint-like device, similar to a pin, until the condition improves.
Tendon transfers can be performed independently or combined with other procedures. A tendon transfer is exactly what it sounds like — a tendon is harvested from under your toe and relocated to the top of your toe to help straighten it.
Basal phalangectomy is a procedure that involves removing the base of the bone underneath the toe. This can have dramatic effects if you're experiencing severe stiffness.
Weil osteotomy is another procedure to help you overcome extreme stiffness. It involves shortening the metatarsal bone and inserting hardware into the hollow of the bone to aid healing.
After the Procedure
After surgery, you may be given a special shoe to relieve pressure while you walk. You have to keep your foot elevated to about the level of your heart for some time after surgery. Stitches are most likely taken out two to three weeks after surgery, but it depends on your ability to walk. Driving may be impeded by your surgery, especially if it's done on your right foot.
Your podiatric doctor may recommend an exercise plan that's designed to stretch and move your toes after the surgery. This helps you recover faster and maintain flexibility in your toes. While everybody heals at different rates, following the instructions of your podiatrist ensures a fastest recovery time.
Recovery from hammer toe surgery begins as soon as your procedure is complete. Some swelling and pain in the area are to be expected, but the inflammation and pain fade quickly. You will hardly notice any swelling in a few months. You will notice your newfound comfort and relief.
Potential Risks
Some complications following surgery are possible, but these are related to surgery in general. For example, you have a chance of infection, as with any surgery. Damage to blood vessels and nerves can happen, but are rare. Risks of bleeding and blood clots are possible, as are complications from anesthesia.
In some cases, your hammer toe could come back even after surgery. Sometimes, the toe may feel useless, unstable, or unable to move. This is due to cutting the ligaments and tendons. The risk is minimal because your foot doctor in New York uses pins to hold your toes in place for a few weeks until everything heals. Furthermore, if fusion is necessary, there's a very small risk of the bones not healing properly.
Things to Remember
Surgery is usually not going to be your NYC podiatrist's first option for treatment. A little care can go a long way. Following the advice of your top NYC foot doctor can possibly save you from undergoing an operation:
Better shoes are a must. This is likely your podiatrist's first suggestion.
Non-steroidal non-inflammatory drugs (NSAIDs) can reduce swelling and inflammation, but it may be necessary for your Manhattan podiatrist to relieve acute pain with cortisone injections.
A foot doctor can prescribe custom-made inserts that you can wear inside your shoes. Not only can they reduce pain, they can prevent your condition from getting worse.
Some over-the-counter inserts can help, but they aren't nearly as effective as ones custom fit by a foot specialist.
Your podiatrist may also suggest exercise to help restore muscle balance.
If after your procedure, you experience burning, numbness, tingling or sensations that don't improve with ice or elevation, contact your foot doctor in NYC immediately.
The Future Can Be Bright
When you're tired of living with pain and discomfort, visit your podiatrist. A highly experienced podiatry doctor in New York Dr. Jennifer McCoy is ready and able to change your life for the better by resolving your foot problems, including any pain you experience on a regular basis. Just take the first step.
Reducing your foot pain is a foot doctor's first priority. Following the prescribed steps and treatments laid out can speed up your recovery and ensure proper healing. Not everyone needs surgery, but if you do, these procedures deliver positive improvements to your quality of life.
Important Reminder: This information is only intended to provide guidance, not a definitive medical advice. Please consult foot doctor about your specific condition. Only a trained, experienced board certified podiatrist or foot specialist can determine an accurate diagnosis and proper treatment.
Do you have any questions about Hammer Toe Surgery or correction procedure in NYC? Would like to schedule an appointment with an internationally recognized, top NYC Podiatrist and foot doctor, Dr. Jennifer McCoy of Manhattan Foot Specialists, please contact our office for consultation.
Manhattan Foot Specialists
Dr. Jennifer McCoy, Podiatrist (NYC Foot Doctor)
51 East 25th Street, Ste 409
New York, NY 10010
(Between Madison Ave & Park Ave)
☎ (212) 389-9918
DISCLAIMER: PLEASE READ CAREFULLY
The information on this website is to provide general guidance. In no way does any of the information provided reflect definitive medical advice and self diagnoses should not be made based on information obtained online. It is important to consult a best in class podiatrist regarding
ANY and ALL
symptoms or signs as it may a sign of a serious illness or condition. A
thorough consultation
and examination should
ALWAYS
be performed for an accurate diagnosis and treatment plan. Be sure to call a physician or call our office today and schedule a consultation.