This practice is temporary closed. Dr. Jennifer McCoy is seeing patients at other locations. No medical information on this site should be relied upon in any case.
DISCLAIMER: PLEASE READ CAREFULLY ON BOTTOM OF THE PAGE
Orthotics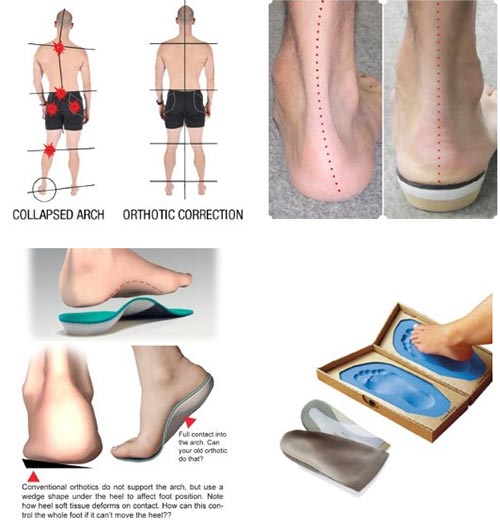 Shoe orthotics are custom-designed foot supports. Each one is made specifically for you to fit one particular foot. Custom orthotics fit better and last longer than over-the-counter arch supports. They balance your feet and legs while correcting your walking and standing position. Types of shoe inserts depend upon what you need to be corrected:
Arch supports: You need arches to properly your weight. If you have flat feet or low arches. Orthotics for arch support have a bump designed to fit your foot's natural arch.
Heel liners: Also called heel cups or heel pads, these provide cushion to your heel area.
Insoles: These fit inside your shoes to give extra support and cushioning to the entire sole of your foot.
Foot cushions: If your shoes rub against your foot and cause pain, these pads come in many shapes and sizes. They cushion your foot where you need it.
Most people try the over-the-counter versions of orthotics first, but often end up needing a more customized approach to get lasting relief. A good podiatry doctor uses biomechanics to diagnose the type of orthotics that'll work best for your individual symptoms. Biomechanics is a science that studies how your body moves during walking, running, and sports activities.
Common Reasons to Use Orthotics
An estimated 70 percent of people have a condition called overpronation, caused by flat feet or fallen arches, that varies in severity. The reason that so many have overpronation is that most people walk on hard flat surfaces all day, every day. This is the number one reason you may need orthotics.
Your NYC podiatrist may recommend orthotics to address other issues as well. Correcting problems early can help prevent more serious back and lower body issues later in life, especially when you have:
Shin splints
Achilles tendon and posterior tibial tendon problems
Runner's knee
Iliotibial Band Syndrome, where the tendons and muscles along your lower leg bone are out of balance
Back pain due to your feet and legs being out of alignment
Knee pain when your feet and legs aren't balanced
General foot pain from standing on hard surfaces all day
When to See a Podiatrist
If you have serious foot pain, schedule an appointment with a best in class, highest rated podiatry doctor in NYC Dr. Sophia Solomon. After evaluating your general health and looking for underlying causes for your foot pain, a good podiatrist in midtown NYC examines your body's biomechanics, including your feet and the way you walk.
Some good podiatry doctors also use advanced technology to map how your body works while you're walking or running. Once this information is gathered, your podiatric doctor makes a 3D image of each foot. Using these images and measurements of your feet, a custom-fitted set of orthotics can be created.
Details About Orthotics
There's a big difference between insoles and orthotics. Insoles are designed only to cushion your feet, functioning as shock absorbers. They don't have any features that actually make changes to the way you stand or walk. Some insoles do have arch support built in, but in general, they're too soft. They break down over time, giving you little to no benefit. They don't correct overpronation.
For real relief from your symptoms, a podiatry doctor can tell you that you need real orthotics. They're functional devices created for the specific purpose of helping change and correct your foot problems. Real orthotics, whether over-the-counter or custom-made for your feet, provide much more than just arch support. They realign your feet and ankles to rebalance your gait and standing position.
Orthotics create better weight distribution, which takes pressure off any sore spots on your feet. Shoe inserts do provide some shock absorption, but that is not the main reason to use them. A podiatry doctor prescribes orthotics to improve your foot function so that you have less pain and possibly to prevent more serious problems in the years ahead.
Over-the-Counter Options
If your podiatric doctor suggests over-the-counter orthotics, you have a wide range of selections. So it can be a little overwhelming trying to make a decision. It's difficult to know what's best for your situation. Follow these tips to make the correct choice:
Try them on: Put them in your shoes and try them out. Walk around in them a bit and notice your comfort level. If they aren't comfortable now, they're not going to be after you break them in.
Bring all your shoes: If an insert doesn't fit well, it does you no good. Bring all of the shoes you plan to wear the inserts in and make the choice that works best for all of them. The insert should fit the contours of your shoe.
Fit your purpose: You need a different type if you're running a marathon versus if you stand at work all day. Make sure they match your needs.
Consider your health: If you're diabetic or have circulation issues, an over-the-counter option may not be best for you. You have an increased risk of infection and foot ulcers, so your inserts should fit perfectly.
Prescription Orthotics
Prescription orthotics come in two categories. Your podiatrist NYC makes a thorough evaluation of your feet and the way you move, including your ankles and legs, to determine which is best for you. The orthotics device you receive has to fit your feet exactly and address your specific issues. The two types are:
Functional Orthotics: These orthotics, made of semi-rigid material like graphite or plastic, are designed to repair abnormal motion of your feet. They may also be used to treat foot pain caused by abnormal motion. They treat injuries such as tendinitis or shin splints.
Accommodative Orthotics: These orthotics are softer to give greater support and cushioning. They're used to treat painful diabetic foot ulcers, calluses, and other foot conditions that cause pain and decreased mobility.
Prescription orthotics are usually more expensive than the over-the-counter types, but the investment is justifiable because these devices are specifically designed for you. They're made of the best materials and should last for years. Orthotic devices often are covered by insurance as well.
Important Reminder: This information is only intended to provide guidance, not a definitive medical advice. Please consult foot doctor about your specific condition. Only a trained, experienced board certified podiatrist or foot specialist can determine an accurate diagnosis and proper treatment.
Do you have any questions about Orthotics, Supports, Insoles in NYC? Would like to schedule an appointment with an internationally recognized, top NYC Podiatrist and foot doctor, Dr. Sophia Solomon of Manhattan Foot Specialists, please contact our office for consultation.
Manhattan Foot Specialists
Dr. Sophia Solomon, Podiatrist (NYC Foot Doctor)
51 East 25th Street, Ste 409
New York, NY 10010
(Between Madison Ave & Park Ave)
☎ (212) 389-9918
DISCLAIMER: PLEASE READ CAREFULLY
The information on this website is to provide general guidance. In no way does any of the information provided reflect definitive medical advice and self diagnoses should not be made based on information obtained online. It is important to consult a best in class podiatrist regarding
ANY and ALL
symptoms or signs as it may a sign of a serious illness or condition. A
thorough consultation
and examination should
ALWAYS
be performed for an accurate diagnosis and treatment plan. Be sure to call a physician or call our office today and schedule a consultation.