This practice is temporary closed. Dr. Jennifer McCoy is seeing patients at other locations. No medical information on this site should be relied upon in any case.
DISCLAIMER: PLEASE READ CAREFULLY ON BOTTOM OF THE PAGE
Minimally Invasive Foot Surgery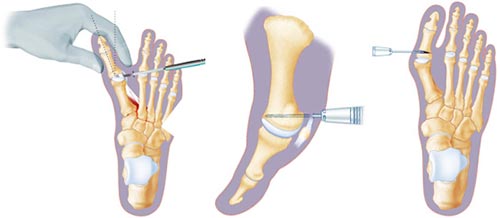 Because your feet are so vital to your quality of life, you must take care of them. Yet most people neglect them until it's too late. Don't jeopardize your ability to work and to remain mobile; visit your Manhattan foot doctor for regular care and when you need to have surgery on one or both feet for any reason.
An NYC podiatrist, Dr. Sophia Solomon almost always first recommends prevention and home care to resolve issues with your feet. Foot pain can be debilitating, so if you are prone to conditions such as ingrown toenails or hammer toes, talk seriously with your foot doctor about preventive steps to avoid surgery and further complications.
All symptoms, potential procedural/surgical options should always be discussed with your podiatrist after a thorough consultation and examination  for an accurate diagnosis and treatment plan.
When All Else Fails
When home care therapies don't relive your foot pain, your NYC podiatrist may recommend surgery to resolve your condition. While there are emergency surgeries for which you won't have much choice — such as when your Achilles tendon tears — an expert Manhattan foot doctor, Dr. Sophia Solomon relies on minimally invasive surgery (MIS) to relieve your disorder. Minimally invasive surgery refers to procedures for your feet that:
Usually are performed in the office of your podiatrist
Typically are outpatient procedures
Allow you to go home the same day
Rely on very small incisions, minimizing blood loss
Sometimes use laparoscopy with tiny cameras and instruments
Leave you with less pain
Often let you walk out of the procedure with minimal assistance
May require a boot or other walking device
Have fewer complications
Produce less scarring
Lead to a quicker recovery period
With all these benefits, it's no wonder your podiatrist tries to minimize your trauma and instead rely on minimally invasive procedures. When you require surgery, MIS is your best bet.
What a Foot Doctor Treats with MIS
Unfortunately, all foot conditions don't lend themselves to light, minimally invasive foot surgery. Your foot doctor in New York may have to resort to more traditional surgical procedures for conditions such as:
Bone fusion
Amputation
Ankle replacement surgery
However, most foot conditions that require surgery can be performed in your Manhattan foot doctor's office with minimally invasive techniques. Common outpatient surgical procedures include:
Robotic Technology
Technological advancements have allowed your podiatrist in NYC to offer a considerable amount of minimally invasive techniques in his office. Robotics give your podiatric specialist or a foot doctor the power to see into very small openings without large, invasive incisions and tools. These computer-guided techniques actually give your foot surgeon better control of the surgical instruments.
Your foot doctor may look as if he's playing video games when working with robotic-assisted tools for your foot surgery. But the view on a large nearby screen shows what he's doing while operating the tiny instruments. The computer software that runs the instruments allows your podiatric doctor in NYC even greater accuracy while making smaller incisions.
Endoscopic Surgical Techniques
An endoscope is a small camera that sits on the end of a thin, narrow tube. Your podiatrist inserts the device into the small incision he makes on your foot. The surgical instruments — such as a blade, scraper or other surgical instrument — attaches to the snaking tube alongside the camera, which provides up-close visuals of the procedure.
Your podiatric surgeon uses a digital screen that magnifies the image from the camera so that only small incisions are needed. Endoscopic surgery shares many of the same benefits as robotic surgery:
Few or no incisions
Lower chance of infection
Less blood loss
Quicker recovery
Reduced pain
Laser in on a Cure
Laser surgery is considered minimally invasive and offers a wide range of options for podiatrists to treat everything from toenail problems to cosmetic reconstruction. Laser surgery is ideal when your foot problem exists in the soft tissues of your feet.
Lasers work by emitting a concentrated beam of light on the affected areas. It's a painless procedure that may leave you with a warming sensation. When you walk out of podiatric doctor's office in NYC immediately following a laser treatment, you'll have:
Very little scarring (if any)
Minimal bleeding
Virtually no pain
Good Looking Feet
One of the most common foot deformities and birth defects is called hallux valgus. It's a condition that leads to an unsteady gait and unsightly feet. In the past, foot doctors relied on traditional surgical measures to realign the bones and soft tissues in the foot to correct the deformity, but minimally invasive solutions are now available.
According to a 2014 article in Podiatry Today, minimally invasive techniques used to correct the deformity still aren't being used among all American podiatrists. Early sturdies abroad, however, indicate success with a surgery known as Minimally Invasive Distal Metatarsal Osteotomy or Distal Linear Osteotomy. Benefits from the procedure include:
Less trauma to outer skin layers
Lighter scars that often can be blended into natural skin folds
Happier patients who enjoy all the benefits of minimally invasive surgery
The inpatient procedure steps are:
Local or general anesthesia
Inserting a small guide wire to guide the podiatrist's movements under a fluoroscope
A small, 5-millimeter incision
Holes drilled in misshaped bone
New wires inserted for proper placement of the metatarsals
The incision is sutured closed
The risks of this procedure include:
Healing that's somewhat unpredictable
Potential misplaced metatarsals, requiring another surgery
Instability of the thin wires
Soft tissue irritation
Minimally Invasive Surgery Risks
While your foot doctor expects little to no complications from outpatient, minimally invasive foot surgery, there's always risk involved in any level of invasiveness. When you meet with your podiatrist, list any medications you're taking, underlying diseases you may have and injuries in your past. It can make all the difference in how well you recover from these procedures.
Without complete disclosure, you may have complications that could include:
Infections
Abnormal bleeding
Damage to nerves in your feet
Blood clots
Re-injuring your foot
General dissatisfaction with the results
All symptoms, potential procedural/surgical options should always be discussed with your podiatrist after a thorough consultation and examination  for an accurate diagnosis and treatment plan.
Important Reminder: This information is only intended to provide guidance, not a definitive medical advice. Please consult foot doctor about your specific condition. Only a trained, experienced board certified podiatrist or foot specialist can determine an accurate diagnosis and proper treatment.
Do you have any questions about Minimally Invasive Foot Surgery procedure in NYC? Would like to schedule an appointment with an internationally recognized, top NYC Podiatrist and foot doctor, Dr. Sophia Solomon of Manhattan Foot Specialists, please contact our office for consultation.
Manhattan Foot Specialists
Dr. Sophia Solomon, Podiatrist (NYC Foot Doctor)
51 East 25th Street, Ste 409
New York, NY 10010
(Between Madison Ave & Park Ave)
☎ (212) 389-9918
DISCLAIMER: PLEASE READ CAREFULLY
The information on this website is to provide general guidance. In no way does any of the information provided reflect definitive medical advice and self diagnoses should not be made based on information obtained online. It is important to consult a best in class podiatrist regarding
ANY and ALL
symptoms or signs as it may a sign of a serious illness or condition. A
thorough consultation
and examination should
ALWAYS
be performed for an accurate diagnosis and treatment plan. Be sure to call a physician or call our office today and schedule a consultation.