Achilles Tendon Surgery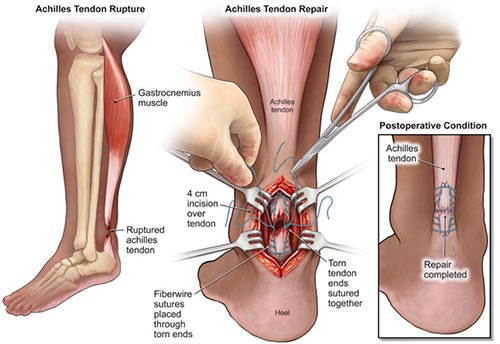 Tendons are rope-like structures that connect your muscles to your bones. When your muscle contracts, it pulls on the tendon, which in turn moves the joint. Your Achilles tendon is the strongest and largest tendon in your body allowing your body to perform incredible things like sprinting and jumping.
The force needed to push your foot down when you walk or run comes from your Achilles tendon. This tendon is very strong and very tight. If you overstretch the tendon, it can tear or even completely rupture. Most often, this injury happens during recreational sports activities. If the tendon is torn or ruptured surgery may be recommended depending on your activity level and other factors. Injuries require a prompt visit to a NYC podiatrist who will recommend an appropriate treatment.
All symptoms, potential procedural/surgical considerations should always be discussed with your podiatrist after a thorough consultation and examination for an accurate diagnosis and treatment plan.
Types of Injury
There are two types of Achilles tendinitis you can suffer from. Your foot doctor in New York can diagnose your Achilles tendon issue with an examination and some confirming tests. The two issues you can have with your Achilles tendon:
Insertional Achilles Tendinitis – occurs near the back of your heel where the tendon attaches. It may be accompanied by additional bone growth referred to as either a bone spur or heel pain. Frequently this damage at the tendon attachment occurs in people who aren't active.
NonInsertional, Achilles Tendinitis –  Occurs just above ones heel along the length of the Achilles tendon. This is the most common form and is primarily seen in athletes and active adults. Your foot doctor in New York can evaluate and diagnose the cause of this pain and treat it from its root. With this type of tendinitis, swelling and inflammation will often be observed by your podiatric doctor during the early stages of this condition. Your podiatric doctor will spend time to create a patient specific treatment plan for your tendinitis.
Seek Medical Attention
Make an appointment to see your NYC foot doctor or podiatrist immediately following your injury to get a thorough examination and diagnosis. The examination by a podiatrist will typically include a clinical exam as well as imaging studies to confirm the diagnosis made by your New York foot doctor..
An MRI is a painless way to provide images of your body's soft tissues and is often utilized in diagnosis of Achilles tendon pain.
Treatment Options
The treatment you need for your ruptured Achilles tendon depends largely on your age, the severity of the injury, and your activity level. It may be recommended for younger, more active individuals to have surgery to repair a ruptured Achilles tendon. In older or less active people, conservative or non-surgical treatment may be enough to ensure a healthy recovery.  Many other factors are considered during the treatment course and our NYC foot doctor can help you decide what's best for your situation:
Conservative care: A cast or walking boot with a wedge in the heel to keep your foot at the correct angle for proper healing is usually worn for 6-8 weeks. This allows the torn fibers to repair and strengthen without the constant stretching caused by the movement of the ankle joint. A podiatrist will make sure you have the proper treatment for optimal healing and prompt return to your activity level present prior to the injury.
Surgery: If your Achilles tendon is surgically repaired, your NYC podiatric surgeon typically allows the patient to return home for recovery the same day as the procedure. A cast is typically worn the first few weeks and the patient is transitioned to a walking boot.
The Surgical Procedure
For this procedure, you're given general anesthesia is typically given. Your Manhattan foot doctor will make a small incision on the back of your ankle or leg to repair the tendon. Depending on the extent of your injury, one or more techniques are employed:
If the Achilles tendon has deteriorated, a portion of it may be removed.
If there are bones spurs, they are removed to prevent them from causing more damage.
If it's a particularly bad tear, your Achilles may be reinforced with a tendon or graft
If necessary, a podiatrist/surgeon will lengthen your calf muscles.
Once the damage has been removed or repaired, your Achilles tendon is re-attached to your heel bone. The incision is sewn closed, and the wound protected. As with any surgery, complications such as infections and nerve damage can occur. Your foot surgeon can reduce these risks by careful dissection and a small incision.
Rehabilitation Is a Process
After surgery, a good podiatrist will prescribe an intensive rehabilitation program. At first, your foot doctor in Manhattan will keep you in a cast , recommend keep your leg elevated as much as possible. In about two weeks, you will follow-up with your podiatric doctor in New York who may remove your sutures. Complete recovery takes more time but with proper treatment you can be back to playing sports in a few months.
When you begin your rehab program, it involves a gradual strengthening and conditioning of your tendon and the muscles surrounding it to make it strong and increase its flexibility. This helps prevent re-injury. Physical therapy plays a key role in your complete recovery. You should be able to resume normal activities, including sports, in four to six months.
Prevention Is Best
You can improve your chances of avoiding an Achilles tear in the future with a few simple tips. While these suggestions can't guarantee your health, you're less likely to have a problem if the muscles and tendons in your feet and legs are toned and strong. Try these:
Vary your exercise routine. Alternate high- and low-impact activities, doing things like biking one day and swimming the next.
Strengthen and stretch your calf muscles. Stretch to the point where you feel the pull, but not the pain. Do not bounce during stretching.
Slowly build intensity. One of the most common ways to injure your Achilles tendon is to abruptly increase the difficulty of your exercise routine. Build by no more than 10 percent each week.
Pay attention to running surfaces. Don't run on surfaces that are too hard or slippery. Wear shoes that are supportive and meant for the sport you are participating in.
Your foot doctor in NYC may have other, more specific, exercises to suggest for building strength in the muscles around your Achilles tendon. Follow the advice, and you may not need surgery.
All symptoms, potential procedural/surgical options should always be discussed with your podiatrist after a thorough consultation and examination for an accurate diagnosis and treatment plan.
Important Reminder: This information is only intended to provide guidance, not a definitive medical advice. Please consult your foot doctor about your specific condition. Only a trained, experienced board certified podiatrist or foot specialist can determine an accurate diagnosis and proper treatment.
Do you have any questions about Achilles Tendon Surgery or repair in NYC? Would like to schedule an appointment with an internationally recognized, top NYC Podiatrist and foot doctor, Dr. Sophia Solomon of Manhattan Foot Specialists, please contact our office for consultation.
Manhattan Foot Specialists
Dr. Sophia Solomon, Podiatrist (NYC Foot Doctor)
51 East 25th Street, Ste 409
New York, NY 10010
(Between Madison Ave & Park Ave)
☎ (212) 389-9918
DISCLAIMER: PLEASE READ CAREFULLY
The information on this website is to provide general guidance. In no way does any of the information provided reflect definitive medical advice and self diagnoses should not be made based on information obtained online. It is important to consult a best in class podiatrist regarding
ANY and ALL
symptoms or signs as it may a sign of a serious illness or condition. A
thorough consultation
and examination should
ALWAYS
be performed for an accurate diagnosis and treatment plan. Be sure to call a foot doctor or call our office today and schedule a consultation.