This practice is temporary closed. Dr. Jennifer McCoy is seeing patients at other locations. No medical information on this site should be relied upon in any case.
DISCLAIMER: PLEASE READ CAREFULLY ON BOTTOM OF THE PAGE
Cosmetic Foot Surgery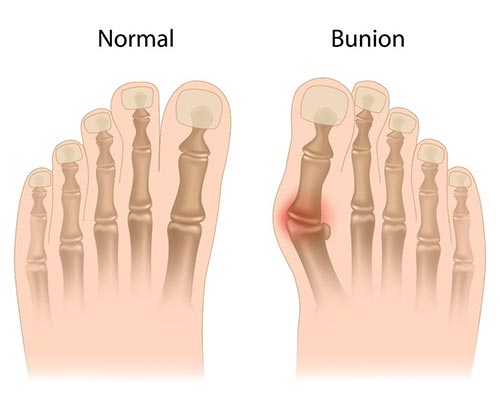 The reasons vary why people want to get cosmetic surgery. It's understandable why face-lifts are in such a big demand or why you may want a tummy tuck to show off a sculpted figure. On the other hand, it may be a little more baffling why you might want to have better-looking feet.
Think about it, though. If you wear sandals, spend a considerable amount of time barefoot by the pool or at the beach, or just want to impress a partner, the idea of cosmetic foot surgery may not be that far out. In fact, cosmetic foot surgery is on the rise. If it's something you want to pursue, talk to the best podiatrist you can find in NYC before proceeding with a plastic surgeon.
Cinderella to the Ball
There's even an aesthetic foot surgery clinic in Beverly Hills, California, that's dubbed its procedure the   "Cinderella Effect" as it's gained popularity. The best NYC podiatrist may be able to provide similar services, but under the guise of bunion surgery or corn removal, which are medical procedures that have a similar effect.
The main difference is that Cinderella-like clients ask for the surgery as a preventive measure to make their feet look sleek, whereas bunion or corn removal by your foot doctor in NYC is performed when your bunions have become so severe that they affect your quality of life and impede normal walking. This type of surgery is also covered by insurance, unlike purely cosmetic surgery.
Popular Options
In addition to shaving your foot so it appears longer and slimmer where the bunions tend to develop, other popular cosmetic surgical options for your feet include:
Toe lengthening
Toe shortening
Fat injections into the pads of your feet
Nail restoration
Hair removal
Foot narrowing
Like many cosmetic surgery procedures, foot surgery is requested typically by women who're embarrassed by their feet or who believe that prettier feet can improve their self-esteem. Of course, it's a lot easier to walk all day in four-inch heels when you don't have lumps or bumps in your feet and when your toes aren't pushing against your shoes all day. Those same high heels also are a lot more comfortable when they rest on the extra fat you've had injected into the pads of your feet.
Overcoming Resistance
You'll always run into naysayers who don't believe in putting yourself at risk for any reason other than those that are medically necessary. NYC foot doctor who refuses to perform cosmetic surgery just to improve the appearance of your feet is similar to a dermatologist who only works on your facial scars if they are causing you pain or discomfort.
Other than the normal risks involved in any surgical procedure — such as bleeding, infection, anesthesia reactions and scarring — there are other considerations the podiatrist can explain. Unlike other cosmetic surgery, you may have more consequences than just an infection that you can control with medicine; if something happens during your cosmetic foot surgery, you might not be able to walk. Remember: your feet are delicate instruments with 26 bones and 30 joints built around a complex array of nerves and ligaments.
And the final consideration is cost. Surgery simply for the sake of appearance is not covered by health insurance policies. Cosmetic foot surgery can be as expensive as other plastic surgery procedures:
Bunion removal for the sake of appearance can cost as much as $5,000 for each foot.
To shorten your toes, you can expect to pay anywhere from $500 to $1,500 per toe.
Collagen injections may cost upwards of $500.
Slimming down an oversized pinky toe could cost as much as $1,800 or more.
You Have Options
Once you've decided that cosmetic foot surgery is worth the cost and the risks, and your foot doctor believes you're a good candidate, then you have some options to consider. Ideally, to best reduce your risks, you should:
Be in good overall health
Not be a smoker
Be at a healthy weight
Have the ability to stay off your feet for the time it takes to heal completely
The top NYC podiatrist may be able to combine your desire for an aesthetically pleasing foot with your needs for better functionality. With the use of the latest surgical techniques in endoscopic and laser surgical procedures, experienced foot surgeons pay closer attention to the appearance of your feet when treating foot problems such as:
Brachymetatarsia, a congenital defect that leaves you with a small extra toe
Making the Best of It
Cosmetic surgical techniques employed by the best New York podiatrists are common ways to achieve a more attractive foot while avoiding complications from extreme cosmetic procedures that may have dangerous consequences. In addition to relying on the least invasive tools, when doing traditional foot surgery, your foot doctor in New York:
Places incisions in places that aren't visible, like between your toes
Uses subcutaneous sutures and steri-strips to close wounds
Considers the appearance of your toes as he corrects tarsal tunnel syndrome effects, for example
Aligns bones aesthetically when repairing foot fractures or doing reconstructive foot surgery
Provides you with man-made options when you have to have a toenail removed
Advises you which lotions to use on your feet following a procedure
Hair Removal
Discuss hair removal from your toes with your New York City foot doctor before visiting a non-medical practice that may offer you the procedure. When laser hair removal is done by a cosmetologist or other non-degreed professional, you increase your risks of complications due to burns than if you rely on the steady hand and knowledgeable staff at your local podiatry doctor's office.
Hair removal rarely meets the requirements of medical necessity, but hairy toes can certainly make you feel self-conscious when you want to show off your feet. You can try home hair removal systems or shaving, but lasers can provide you with permanent relief with little or no harm when performed by a trained medical professional.
Important Reminder: This information is only intended to provide guidance, not a definitive medical advice. Please consult foot doctor about your specific condition. Only a trained, experienced board certified podiatrist or foot specialist can determine an accurate diagnosis and proper treatment.
Do you have any questions about Cosmetic Foot Surgery procedure in NYC? Would like to schedule an appointment with an internationally recognized, top NYC Podiatrist and foot doctor, Dr. Sophia Solomon of Manhattan Foot Specialists, please contact our office for consultation.
Manhattan Foot Specialists
Dr. Sophia Solomon, Podiatrist (NYC Foot Doctor)
51 East 25th Street, Ste 409
New York, NY 10010
(Between Madison Ave & Park Ave)
☎ (212) 389-9918
DISCLAIMER: PLEASE READ CAREFULLY
The information on this website is to provide general guidance. In no way does any of the information provided reflect definitive medical advice and self diagnoses should not be made based on information obtained online. It is important to consult a best in class podiatrist regarding
ANY and ALL
symptoms or signs as it may a sign of a serious illness or condition. A
thorough consultation
and examination should
ALWAYS
be performed for an accurate diagnosis and treatment plan. Be sure to call a physician or call our office today and schedule a consultation.