This practice is temporary closed. Dr. Jennifer McCoy is seeing patients at other locations. No medical information on this site should be relied upon in any case.
DISCLAIMER: PLEASE READ CAREFULLY ON BOTTOM OF THE PAGE
Cheilectomy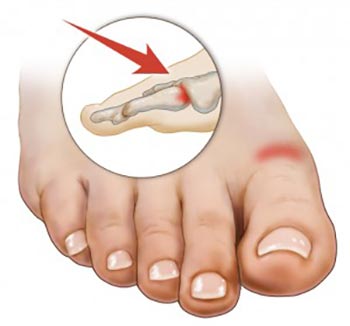 If you have a severe bone or toe spur condition, your New York foot doctor may recommend a surgical procedure, also known as cheilectomy, to remove it. Bone spurs typically appear on the top section of your big toe joint — called the first metatarsophalangeal or MTP joint — and are usually a result of early arthritis.
The literal translation of cheilectomy is cutting away the "lip" of a bone. This is a last-resort surgical procedure for those who have limited motion in their big toes and whose condition wasn't improved by non-surgical, conservative treatment. But it can restore flexibility and mobility.
All symptoms, potential procedural/surgical options should always be discussed with your podiatrist after a thorough consultation and examination  for an accurate diagnosis and treatment plan.
Why You May Need Cheilectomy
Your podiatrist in NYC performs the procedure primarily to increase the motion of your big toe. At the same time, your foot doctor removes any bumps that may signal early arthritis on the surface of your bone or joint. So a cheilectomy has immediate and long-term goals.
Trimming the joint or bone at the location of the spur or bump doesn't involve metal implants or any type of implants, for that matter. Instead, your foot doctor in New York inspects the cartilage surrounding your joint for calcium deposits. If some are found, they're removed.
The Surgical Procedure
Most incisions that your NYC podiatrist makes are about five to seven centimeters long. Your foot specialist closes the incision with stitches or surgical clips. A sterile bandage is applied after surgery to protect the area from infection.
Typically, you receive optional local anesthesia for this outpatient procedure. You return home afterward to recuperate. If you do have to stay overnight, it's so that your New York podiatric doctor and staff can monitor your other health issues, such as high blood pressure, asthma or diabetes.
Potential Complications after Cheilectomy
Complications are rare, but since they can arise from your bone spur surgery, so you should understand them. Possible complications include:
Nerve irritation: Irritation to your big toe nerves may occur as a result of this procedure, resulting in partially numb regions of your big toe. Most of these nerve issues go away in a couple months.
Infection: Tenderness, redness and increased pain after surgery are all indicators of infection. If you experience any of these, see your podiatric doctor immediately. Usually, infection at the surface of the wound can be treated with antibiotics. For deeper infections, your podiatrist in New York City may recommend intravenous antibiotics. If you get an infection, be sure to tell your foot doctor about any unusual exposure to fungus, soils or pets.
Blood clots: Every surgery carries the risk of developing blood clots. Bone spur removal is no different. However, the risk of developing blood clots is lower in a cheilectomy, as this procedure has a shorter healing time than most surgeries. Therefore, you can return to activity sooner, and your circulation returns to normal sooner, resulting in fewer blood clots. Notify your New York City foot doctor if you've had blood clots in the past or if you're at risk for blood clots now. As a precaution, your podiatrist may prescribe blood-thinning medications, which you may have to take these for a few weeks after your surgery.
Arthritis progression: Arthritis may develop more quickly if there was a lot of wear and tear on your big toe joint. Cheilectomy doesn't reverse the underlying causes of arthritis; therefore, it's likely to occur again over time. If arthritis symptoms recur, the next step may be to fuse your big toe or consider a replacement of the first MTP joint.
Problems with healing: In most cases, your wound heals without any problems. If you have conditions such as inflammatory arthritis, diabetes or poor blood pressure, for example, you may receive special instructions on wound care after your surgery. If you're a smoker, that may interfere with proper wound healing. Follow all recommendations from your foot doctor with regard to smoking. You may have to stop smoking completely until your foot is totally healed.
Too much too soon: If you have a physically active lifestyle, beware of returning to strenuous activities too soon, as it can adversely impact the healing time of your wound. Also, returning to normal footwear too soon after surgery may result in irritating your wound, even after the stitches have been removed and the wound appears fully healed. Ask your NYC podiatrist for guidance.
Recovery from Bone Spur Surgery
You can recover from bone spur surgery and return to full activity soon after your procedure, according to most podiatrists and foot doctors. You're able to walk right after surgery, provided you wear a shoe with a stiff sole. You may have to use a cane or crutches after surgery, but you shouldn't need them longer than a week or two.
Your podiatrist provides at-home instructions on proper wound care, as well as how to bandage your injured foot. For example, keep your foot raised to reduce swelling. Expect to take a few days off of work or school after surgery to give your foot the proper rest it needs.
Your doctor removes your stitches about two weeks after the surgery, when your incision heals. Your podiatry doctor often recommends a physical therapist to provide you with range-of-motion exercises. One is gently lifting your big toe up and down on a regular basis to prevent it from stiffening. Your podiatrist in Manhattan may advise you to start walking regularly to promote the range of motion, or you may be instructed to walk on the outside edge of your foot to avoid putting pressure on the affected toe.
Typically, you return to your normal lifestyle within about three weeks, although extreme activities like playing sports may not be possible within this time span. You can expect some swelling and residual pain for about three months after your surgery, which naturally limits your activities. If you have a cheilectomy procedure, you should avoid driving until the stiffness in your foot has subsided, which takes about two to four weeks of recovery time. Ask your podiatrist NYC for opinion and instruction.
All symptoms, potential procedural/surgical options should always be discussed with your podiatrist after a thorough consultation and examination  for an accurate diagnosis and treatment plan.
Important Reminder: This information is only intended to provide guidance, not a definitive medical advice. Please consult foot doctor about your specific condition. Only a trained, experienced board certified podiatrist or foot specialist can determine an accurate diagnosis and proper treatment.
Do you have any questions about Cheilectomy procedure in NYC? Would like to schedule an appointment with an internationally recognized, top NYC Podiatrist and foot doctor, Dr. Jennifer McCoy of Manhattan Foot Specialists, please contact our office for consultation.
Manhattan Foot Specialists
Dr. Jennifer McCoy, Podiatrist (NYC Foot Doctor)
51 East 25th Street, Ste 409
New York, NY 10010
(Between Madison Ave & Park Ave)
☎ (212) 389-9918
DISCLAIMER: PLEASE READ CAREFULLY
The information on this website is to provide general guidance. In no way does any of the information provided reflect definitive medical advice and self diagnoses should not be made based on information obtained online. It is important to consult a best in class podiatrist regarding
ANY and ALL
symptoms or signs as it may a sign of a serious illness or condition. A
thorough consultation
and examination should
ALWAYS
be performed for an accurate diagnosis and treatment plan. Be sure to call a physician or call our office today and schedule a consultation.