This practice is temporary closed. Dr. Jennifer McCoy is seeing patients at other locations. No medical information on this site should be relied upon in any case.
DISCLAIMER: PLEASE READ CAREFULLY ON BOTTOM OF THE PAGE
Heel Spur Surgery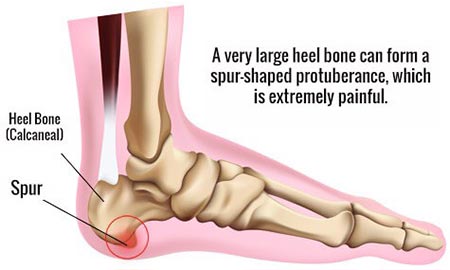 The heel is your foot's largest bone, and it endures most of the impacts you experience during the day. Leading NYC podiatrists explain that a heel spur is a result of abnormal bone growth. The contact point for the plantar fascia — a wide stretch of tissue covering the bottom of your foot — is the location for the development of calcium deposits that can result in a bony spur.
Heel spurs are especially tender when you walk or even when you just stand for any amount of time. The best rated NYC podiatrists initially treat your heel spur with simple non-invasive treatments such as:
Stretching exercises
Wearing different shoes that fit better
Taping your heel for added support
Physical therapy
If your heel pain hasn't responded to more cautious treatments after several months or longer, your New York podiatric doctor may decide that success can only be achieved through a more aggressive method: surgery.
All symptoms, potential procedural/surgical options should always be discussed with your podiatrist after a thorough consultation and examination  for an accurate diagnosis and treatment plan.
Relieving Your Pain
The extreme pain you feel and the disruption of normal activities can be unbearable. If surgery is necessary, your New York City podiatrist orders X-ray imaging to determine that it's indeed a heel spur that's causing your discomfort. Then your surgery can be scheduled.
In the past, a much more invasive procedure was needed to remove the spur. Arthroscopic heel spur surgery required the surgeon to make an incision on the bottom or side of your heel to remove a bone spur. The side effects included prolonged healing, and the resulting pain from the procedure was often intense.
Enter Endoscopic Surgery
Today, your pain can effectively be treated through a generally safe surgical technique: a low trauma and minimally invasive procedure called endoscopic surgery. The best NYC podiatrists employ this technique as a last resort for treating heel spurs. Superior understanding of the pain associated with heel spurs and newer surgical methods provide better results with shorter recovery times.
Endoscopic surgery was introduced in the late 1980s. The technique relies on much smaller incisions. Highly rated NYC podiatrists cut one or two tiny incisions on the side of your heel. Then a slender tube with a tiny camera is inserted. The camera provides your podiatry doctor with better vision and control. The bone spur is shaved down to improve your condition.
While endoscopic surgery may be performed in a hospital operating room, it's more common in an outpatient clinic. General, local, and twilight anesthesia are all available options, depending on your needs and your foot doctor's preference. The endoscopic heel spur procedure should be performed by an experienced orthopedic surgeon with the help of an anesthesiologist or a nurse anesthetist. Post-heel surgery, it's common for your foot to be dressed in a hard plaster cast to reduce mobility and promote healing.
Risks of Endoscopic Heel Spur Surgery
As in any surgical procedure, endoscopic heel spur surgery presents the risk of possible negative outcomes. Therefore, podiatrists in NYC educate you prior to agreeing to the procedure. It's important to understand both the desired outcome and the possible side effects. For instance, a considerable recuperation period may be required after a heel spur surgery, during which you have to avoid load bearing or stress impact activities to promote healing of your heel.
Moreover, it's possible that the heel spur surgery can result in nerve damage, causing a persistent numbness in the area surrounding your heel. In extreme situations, heel pain actually continues to plague you even after the surgery. However, these conditions are rare, and your pain usually subsides after a week or so.
Initial Recovery Period
The podiatrists encourage you to walk very soon after the heel spur surgery, though you're still advised to do so sparingly and build up to more strenuous activity slowly. During the initial week after surgery, you're discouraged from walking at all unless it's necessary, for example, to use the bathroom.
Once the first week has passed, the bandages covering the incision site can be removed, and you may be allowed to wear structurally sound street shoes. Depending on your podiatrist's judgment, you may have had a cast applied after surgery, necessitating crutches until its removal.
Getting Back on Your Feet
Usually between Day 10 and 14, the stitches are removed and you can bath again. Nevertheless, you still have to wait at least three weeks until you can walk normally and pain-free. At this point, you're encouraged to wear orthotics to minimize any lingering pain and for added support and comfort. The orthotics also prevent awkward movements of your ankle while your foot muscles are weak.
The necessary time off from work depends on the type of job you hold and the sort of shoes that can be worn. In a sedentary occupation, you may even be able to return to work within a week while still sporting the plaster cast. More active professions — those requiring climbing, crouching or extended walking — require at least three weeks. These are general guidelines; your podiatrist in NYC can give you an individual consultation to discuss the particulars of your recuperation.
Potential Surgical Complications
Statistically speaking, endoscopic heel surgery has an extremely high rate of success. Nevertheless, your podiatric doctor in NYC may warn you that complications are always possible in heel surgery and during your recovery. Walking too much too soon during the recuperation can damage the tissues that were weakened during surgery.
If you re-injure your foot, you may be in even more pain — not just in your heel, but in other parts of your foot as well. Infection is another serious concern in all surgical procedures, especially if your foot gets wet before the stitches are removed. It's also possible for your heel pain to persist even after the heel surgery. Bleeding may occur at the incision site, and permanent numbness is also a possibility, however slight.
Contact your New York City podiatrist immediately if you experience any of the following during your initial recovery period:
Dizziness
Severe pain
Swelling on or near the sutures
A fever
Dizziness
Any sign of infection
All symptoms, potential procedural/surgical options should always be discussed with your podiatrist after a thorough consultation and examination  for an accurate diagnosis and treatment plan.
Important Reminder: This information is only intended to provide guidance, not a definitive medical advice. Please consult foot doctor about your specific condition. Only a trained, experienced board certified podiatrist or foot specialist can determine an accurate diagnosis and proper treatment.
Do you have any questions about Endoscopic Heel Spur Surgery procedure in NYC? Would like to schedule an appointment with an internationally recognized, top NYC Podiatrist and foot doctor, Dr. Jennifer McCoy of Manhattan Foot Specialists, please contact our office for consultation.
Manhattan Foot Specialists
Dr. Jennifer McCoy, Podiatrist (NYC Foot Doctor)
51 East 25th Street, Ste 409
New York, NY 10010
(Between Madison Ave & Park Ave)
☎ (212) 389-9918
DISCLAIMER: PLEASE READ CAREFULLY
The information on this website is to provide general guidance. In no way does any of the information provided reflect definitive medical advice and self diagnoses should not be made based on information obtained online. It is important to consult a best in class podiatrist regarding
ANY and ALL
symptoms or signs as it may a sign of a serious illness or condition. A
thorough consultation
and examination should
ALWAYS
be performed for an accurate diagnosis and treatment plan. Be sure to call a physician or call our office today and schedule a consultation.