This practice is temporary closed. Dr. Jennifer McCoy is seeing patients at other locations. No medical information on this site should be relied upon in any case.
DISCLAIMER: PLEASE READ CAREFULLY ON BOTTOM OF THE PAGE
Overgrown Toe Skin Surgery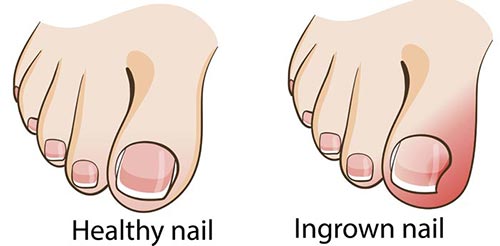 If you have ever experienced ingrown toenails, you know the pain and discomfort they can cause on the corners or edges of your toes as they dig into the surrounding skin. The difference between ingrown toenails and overgrown toe skin is what causes the condition — it's the skin and not the nail.
When you have overgrown toe skin, the skin grows up over your toenail, typically on both sides of the nail. Your NYC podiatrist can diagnose overgrown toe skin growth and provide treatment options, which may include surgery, such as the procedure called the Vandenbos Procedure.
All symptoms, potential procedural/surgical options should always be discussed with your podiatrist after a thorough consultation and examination  for an accurate diagnosis and treatment plan.
Causes and Symptoms of Overgrown Toe Skin
Overgrown toe skin often occurs if you have soft skin tissue surrounding your nails. It's caused by activities that put excessive weight on the foot — weight-bearing activities like walking, running and jogging. These and other weight bearing activities cause the soft tissue to gather up around the sides of the nail and create pressure on the toenail. The friction eventually punctures the skin, which eventually leads to:
Pain
Redness
Infection
Swelling
The Vandenbos Procedure
The Vandenbos Procedure is a minimally invasive surgery. It doesn't affect your toenail, so your toe ends up looking great after the surgery. The procedure involves freezing your toe so you don't feel any pain throughout the surgery. The skin that has grown over your toenail is then removed, without cutting or removing the toenail.
Ask your podiatrist in NYC if this is a treatment option for you. The Vandenbos Procedure typically can be done in the office of your podiatrist in Manhattan. The entire procedure takes about 20 minutes for the first toe and about 30 minutes for a second toe, if necessary. As an outpatient procedure, you need to arrange for someone to pick you up and drive you home after the surgery. Your foot may still be numb, swollen and painful, which makes driving yourself difficult and dangerous.
About the Procedure
In 1959, the podiatry practice of Vandenbos and Bowers discovered that people with overgrown toe skin had abnormally excessive and soft skin on the sides of their toenails. They also realized that most of these patients were in their twenties and thirties. They concluded that weight-bearing activities caused the tissue to flow over the edges of the toenail, resulting in a condition called pressure necrosis — where the toenail digs into the skin.
Then they devised the procedure. It isn't recommended for people with fungal infections, dystrophic nails, or thick, curling and discolored nails. But if you qualify for the surgery, it follows specific steps:
You're given a painkiller prior to the procedure. Your toe is cleaned with an iodine wash to prevent infection.
A "ring block" is applied at the base of your toe with a tourniquet.
Your podiatrist makes an incision near the base of your toenail, extending up the side of your toe all the way to the tip of the nail. All the skin at the edge of the toe then is removed.
Using a cauterizing instrument called a hyfrecator to "burn" the edge of the skin to reduce pain and bleeding, your NYC podiatric doctor is careful not to damage the nail, the nail bed or the matrix — the submerged base of the toenail.
Fine mesh gauze is placed over your wound, which is then wrapped with a dressing. Your Manhattan podiatrist removes the elastic tourniquet. Your foot is elevated to minimize bleeding.
Aftercare Following Surgery
You're sent home with a bandaged toe or foot, and you need to keep your foot elevated for a day or two after surgery. Your foot doctor NYC may also recommend special footwear — like a boot or open-toed shoe — to allow your toe to heal correctly. You're often prescribed pain medication and antibiotics to take after your procedure, but it's recommended you fill this prescription before the procedure so you'll have it when you need it.
When you arrive at home, you should lie down and avoid toe movement as much as you can. The bandages are typically removed two days after the surgery. Your podiatrist in Manhattan may recommend baths every day in warm water until your toe heals. Add one or two tablespoons of Epsom salts to the water and soak for 20 minutes while gradually removing the foot dressing.
Expect some bleeding during your recovery. When you finish soaking your foot, apply a fresh dressing to the wound. Your foot doctor provides instructions to you so you can be diligent about what to look for in these baths. Repeat the soaks three times a day while your wound gradually heals. Continue this for a week or two. You may see some redness around the wound during this time, but the antibiotics you're taking control any infection.
You should wear open-toed shoes during your recovery whenever possible. Return to your podiatric doctor in Manhattan for a follow-up examination after two to three weeks. This appointment is to make sure your wound is healing properly and there are no complications. Your toe should be fully healed at the four-to-six-week mark. At this point, your toenail should be sitting naturally over the skin.
Results and Risk Factors of Surgery
If your overgrown toe skin is removed with the Vandenbos Procedure, there are virtually no recurrences of overgrown toe skin, provided your podiatrist removes enough of the soft skin tissue surrounding your toenail. If additional treatments are required, it's usually because your podiatric doctor in NYC didn't remove enough of the soft tissue.
Your NYC foot doctor makes you aware of all the risk factors and potential complications from overgrown toe skin surgery before you undergo the procedure. As with any surgery, there are potential risks and complications that may occur. These include:
Excessive bleeding
Blood clots
Nerve damage
Infection
Excessive pain
The possibility of requiring additional surgeries if the first procedure is unsuccessful
The potential for a recurrence of overgrown toe skin, which may require additional surgery
All symptoms, potential procedural/surgical options should always be discussed with your podiatrist after a thorough consultation and examination  for an accurate diagnosis and treatment plan.
Important Reminder: This information is only intended to provide guidance, not a definitive medical advice. Please consult foot doctor about your specific condition. Only a trained, experienced board certified podiatrist or foot specialist can determine an accurate diagnosis and proper treatment.
Do you have any questions about Overgrown Toe Skin Surgery procedure in NYC? Would like to schedule an appointment with an internationally recognized, top NYC Podiatrist and foot doctor, Dr. Sophia Solomon of Manhattan Foot Specialists, please contact our office for consultation.
Manhattan Foot Specialists
Dr. Sophia Solomon, Podiatrist (NYC Foot Doctor)
51 East 25th Street, Ste 409
New York, NY 10010
(Between Madison Ave & Park Ave)
☎ (212) 389-9918
DISCLAIMER: PLEASE READ CAREFULLY
The information on this website is to provide general guidance. In no way does any of the information provided reflect definitive medical advice and self diagnoses should not be made based on information obtained online. It is important to consult a best in class podiatrist regarding
ANY and ALL
symptoms or signs as it may a sign of a serious illness or condition. A
thorough consultation
and examination should
ALWAYS
be performed for an accurate diagnosis and treatment plan. Be sure to call a physician or call our office today and schedule a consultation.