Overgrown Toe Skin Surgery
If you have ever experienced ingrown toenails, you know the pain and discomfort they can cause on the corners or edges of your toes as they dig into the surrounding skin. Overgrown skin on the toe is a common cause of ingrown toenails. Sometimes this skin may need to be removed if ingrown nails and infection become a problem.
Your podiatrist in Manhattan can distinguish this issue from a simple ingrown nail caused by nail overgrowth rather than overgrowth of the skin and provide treatment options.
All symptoms, potential procedural/surgical options should always be discussed with your podiatrist after a thorough consultation and examination for an accurate diagnosis and treatment plan.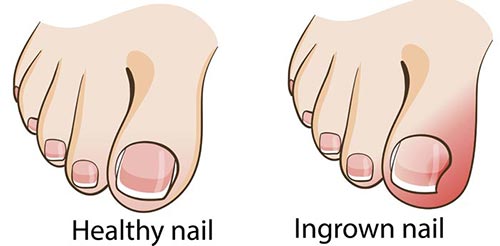 Causes and Symptoms of Overgrown Toe Skin
Overgrown toe skin often occurs if you have soft skin tissue surrounding your nails. It's caused by activities that put excessive weight on the foot — weight-bearing activities like walking, running and jogging. These and other weight bearing activities cause the soft tissue to gather up around the sides of the nail and create pressure on the toenail. The friction eventually punctures the skin, which eventually leads to:
Pain
Redness
Infection
Swelling
Surgical Treatment
A few treatment options exist depending on whether one or both skin borders of the nail are enlarged. Your podiatrist Dr. Solomon of podiatry New York will perform this procedure in a surgical center and you will be discharged the same day if no complications arise. The skin border is surgically removed and the remaining skin is sutured to the nail bed. This procedure is a minimally invasive surgery and the scarring will be very small in most cases. Your nail will continue to grow normally unless your podiatrist chooses to remove part of the nail and kill the root due to its growth being a cause of the irritation. Your podiatrist in Manhattan will discuss the details of the procedure during your office visit and determine the procedure that best suits you.
Your NYC podiatric doctor will typically place a bandage placed on the foot and recommend wearing a surgical shoe following surgery. The sutures are usually removed by your Manhattan podiatrist at 2-3 weeks and our goal is for you to  be back to normal activity in about a month if your healing progresses normally. Each patient is different and it is important to follow up with your surgeon within 1-2 weeks of surgery since your treatment plan may vary.
Aftercare Following Surgery
In addition to a bandage and surgical shoe your foot doctor NYC will prescribe you pain medication and in some cases antibiotics. It is important to follow all instructions of your podiatrist in Manhattan to ensure optimal surgical results.
Your foot doctor recommends to keep your foot dry after surgery which differs from ingrown toenail removal when we may allow epsum salt soaks.
Return to your podiatric doctor in Manhattan for a follow-up examination within two weeks of the surgery. This appointment is to make sure your wound is healing properly and there are no complications. Your toe should be fully healed at the four-to-six-week mark.
Results and Risk Factors of Surgery
If your overgrown toe skin is surgically removed by your podiatrist, return of this problem is uncommon. If additional treatments are required, you may need a more aggressive skin removal by your podiatric doctor in NYC.
Your NYC foot doctor makes you aware of all the risk factors and potential complications from overgrown toe skin surgery before you undergo the procedure. As with any surgery, there are potential risks and complications that may occur. These include:
Excessive bleeding
Blood clots
Nerve damage
Infection
Excessive pain
The possibility of requiring additional surgeries if the first procedure is unsuccessful
The potential for a recurrence of overgrown toe skin, which may require additional surgery
All symptoms, potential procedural/surgical options should always be discussed with your podiatrist after a thorough consultation and examination for an accurate diagnosis and treatment plan.
Important Reminder: This information is only intended to provide guidance, not definitive medical advice. Please consult your foot doctor about your specific condition. Only a trained, experienced podiatrist or foot specialist can determine an accurate diagnosis and proper treatment.
Do you have any questions about Overgrown Toe Skin Surgery procedure in NYC?  Would you like to schedule an appointment with an internationally recognized, top podiatrist and foot doctor, Dr. Sophia Solomon of Manhattan Foot Specialists?  Please contact our office for a consultation.
Manhattan Foot Specialists
Dr. Sophia Solomon, Podiatrist (NYC Foot Doctor)
51 East 25th Street, Ste 409
New York, NY 10010
(Between Madison Ave & Park Ave)
☎ (212) 389-9918
DISCLAIMER: PLEASE READ CAREFULLY
The information on this website is to provide general guidance. In no way does any of the information provided reflect definitive medical advice and self diagnoses should not be made based on information obtained online. It is important to consult a best in class podiatrist regarding
ANY and ALL
symptoms or signs as it may a sign of a serious illness or condition. A
thorough consultation
and examination should
ALWAYS
be performed for an accurate diagnosis and treatment plan. Be sure to call a foot doctor or call our office today and schedule a consultation with the leading foot surgeon Dr. Sophia Solomon.